PORTFOLIO
Here's what I can teach you.
Go to BEGINNER
BEGINNER
– Spanish alphabet
– Pronounciation
– Basic vocabulary
– Articles
– Subject pronouns
– 'Ser' & 'estar' (to be)
– Interrogative words
– Days of the week
– Months of the year
– Seasons of the year
– Numbers
– Time
– Colors
– Present tense
Go to INTERMEDIATE
INTERMEDIATE
– 'Por' & 'para' (for)
– Past tenses
– Future tenses
– 'Hacer' (to do/make)
– 'Gustar' (to like)
– 'Mucho' & 'poco' (much & less)
– Pronouns
– Gerunds
– Adverbs
– Prepositions
– Superlatives
– Comparisons of (in)equality
Go to ADVANCED
ADVANCED
– Conditional tenses
– Subjunctive
– Commands
– Review of all tenses
– Idiomatic expressions
– Periphrasis
– Accentuation
– Passive constructions
– Vocabulary building

& more!
About me
Professional one-on-one Spanish instruction & tutoring.
Please feel free to contact me in order to schedule a free trial lesson.
Hola amigos!
My name is Arely Zeceña. I am a native Guatemalteca Spanish speaker with 30 years of experience teaching Spanish as a second language to students from all over the world, both face-to-face and online.
I understand that each student has a specific reason to learn a language - whether it is for business, a vacation, school, to achieve the goal of being bilingual, or just for fun.
With that in mind, I adjust my lessons accordingly so you get what you want and also the most out of learning a new language.
I will do everything possible to make learning Spanish an enjoyable experience for you.
regular language schools

at any given time

including weekends

using Skype & Paypal
ARELY
Your favorite Spanish teacher :)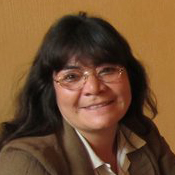 Reviews
What other students are saying.
Contact me
Please send me an email to antigua_spanish@yahoo.com.